Defining your target audience is the first and most essential step towards success for any company or business, especially if you are just getting started. Finding and connecting with your target audience is crucial for the success of your business or project. Understanding your audience enables you to tailor your messages, products, and services to their specific needs, leading to more effective communication and better outcomes. In this blog post, we'll delve into the strategies and techniques you can employ to identify and engage your target audience. But let's talk on what is target audience?
What Is a Target Audience?
A target audience is a share of consumers that a business directs is trying to reach with their advertising efforts.
That's the simple version — your target audience is who you target with your marketing efforts.
The intention here is to target a group of people with the education, goals, interests, and problems as your ideal customer.
Basically, you want to target people who will buy your stuff.
If you target people who don't want to buy your stuff or don't have the means to buy your stuff, you might get more site traffic, but it won't do much for you. You'll be pulling out your hair trying to figure out why none of your visitors are buying from you.
Before we dive into the details on finding your audience, let's first go over "personas" because many people confuse them with a target audience — and that can result in wasting time and money.
The Difference Between a Target Audience and a Persona
You already know the definition of target audience, so I won't bore you with that again.
The data used to define the target audience is usually:
Age
Gender
Education background
Purchasing power
Social class
Location
Consumption habits
Example of a target audience: Women, 30-45 years old, living in Bangkok, with a bachelor's degree, monthly income of ฿40,000 – ฿80,000, and passionate about fashion and decor.
Don't try to reach everyone to increase your chances of sales and profit. It will actually cost you more and decrease your profit margins in the long run.
Now let's go over "personas."
What Is a Customer Persona?
In marketing, customer personas are profiles of buyers that would be your ideal customers.
Personas are fictional characters with characteristics of your real customers. They're developed based on target audience research and may help you direct your marketing actions better.
A persona is a person that may be interested in what you have to offer since they're very connected to your brand and you must make an effort to make them a client and retain them.
A persona involves much deeper and more detailed research than your audience since it includes:
Personal characteristics
Purchasing power
Lifestyle
Interests
Engagement in social networks
Professional information
Persona example: Mariana, 35, entrepreneur. Lives in Bangkok, Thailand. Has a college degree. She always follows fashion events in the area and participates in meetings with other people in the fashion niche. As a digital influencer, she cares a lot about what people see on her social network profiles. Likes to practice indoor activities and go to the gym in her free time.
The main difference between persona and target audience is the target audience considers the whole audience in a more general way, while a persona is more specific.
Why Finding Your Target Audience Matters
The mistake I made was I didn't figure out my target audience from the start. I just created content and started marketing to anyone who wanted traffic.
That is a bit too vague because not everyone who wants more traffic is a good fit for my ad agency.
They could just want to be famous on Instagram or YouTube, which is a lot of people–but that doesn't help me generate more income.
Funny enough, there are more people who are interested in getting Instagram followers than people who want to learn about SEO.
Once you know your target audience, it's easier to find and perform keyword research. The moment you know your audience, you can perform keyword research correctly and find opportunities that don't just drive traffic, but more importantly, drive revenue.
Now let's figure out your target audience.
How to Define Your Target Audience: 6 Questions to Ask
Figuring out your target audience isn't rocket science. It just comes down to a few simple questions.
Six actually, to be exact.
Go through each of the questions below and you'll know the exact audience you are targeting.
1. Who Are They?
When thinking about who might be in your audience, you must consider who are the people who identify with your brand.
One way to find out is to monitor who follows, likes, shares, and comments on your posts on social sites like Facebook, YouTube, and Instagram.
If someone is willing to engage with you, then chances are they are your target.
In many cases, your ideal audience may not be inactive on social media, but buy from your company frequently or sign up for your services.
Even those who bought from you only once must be considered a part of your target audience, as someone who bought once might buy again.
There is no point in making a great effort to sell if you don't make a similar effort to keep the customers you have already gained.
Customers like to feel special, and that is why the post-sales process is so important. Your relationship with the customer must remain even after the purchase is completed.
2. What Are Their Biggest Difficulties, Problems, or Desires?
Don't think of yourself when it's time to define the difficulties, problems, and desires of your target audience. Put yourself in their shoes. What is cool, interesting, and good for you might not be for the customer.
Don't make offers based on what you think. Make according to research grounded in data, previous experiences, and analysis of your potential customers' behavior.
Understand the greatest difficulties your audience faces to try to help solve them.
3. Where Do They Look for Information Online?
Everyone needs information.
Every day we are inundated with tons of information, but when you need it the most, where do you go to find answers?
Identify the communication channels most appropriate to your target audience and try to talk to them using a specific language from their universe.
4. What Real Benefit Do You Offer?
Everyone wants solutions for their problems and to make their lives easier. This is a collective desire and it's no different for your target audience.
Think a little about your product and the problem it solves. What benefits does your product or service offer? What can it do to solve those problems? What is the main value offer?
With so much competition, you must try to find your competitive advantage in your niche and always try to improve your product, offering something extra that others do not. 
5. What Draws Their Attention Negatively?
Being optimistic helps a lot, but thinking about the negatives can also help, especially when we talk about target audiences.
Better than considering what your audience wants, think about what they definitely don't want and what they avoid.
With this powerful information in hand, you may have more chances to captivate your potential customers.
Avoiding what they consider negative is the first step to gain their approval. After that, you only need to apply other strategies to do efficient marketing.
6. Who Do They Trust?
Trust is everything to your target audience. No one purchases a product or service from a company they don't know or trust.
This is why reviews on your Website are read and so important for sellers. It builds trust; it's also helps the brand or company grow.
Even though this is the last question, it is one of the most important.
The reputation of your company is crucial. Taking care of the relationship with your customers is essential as they spread information about your brand on the internet and to their friends and family.
If you get good reviews, have positive comments, and garner a great reputation, customers will be more motivated to buy from you.
How to Create Customized Content for Your Audience
Now that you know your audience, let's create content for them.
Everyone creates content, right?
You just have to put a keyword on Google and you will see thousands if not millions of results for each keyword.
When you research "best earbuds" on Google, here's what you'll see: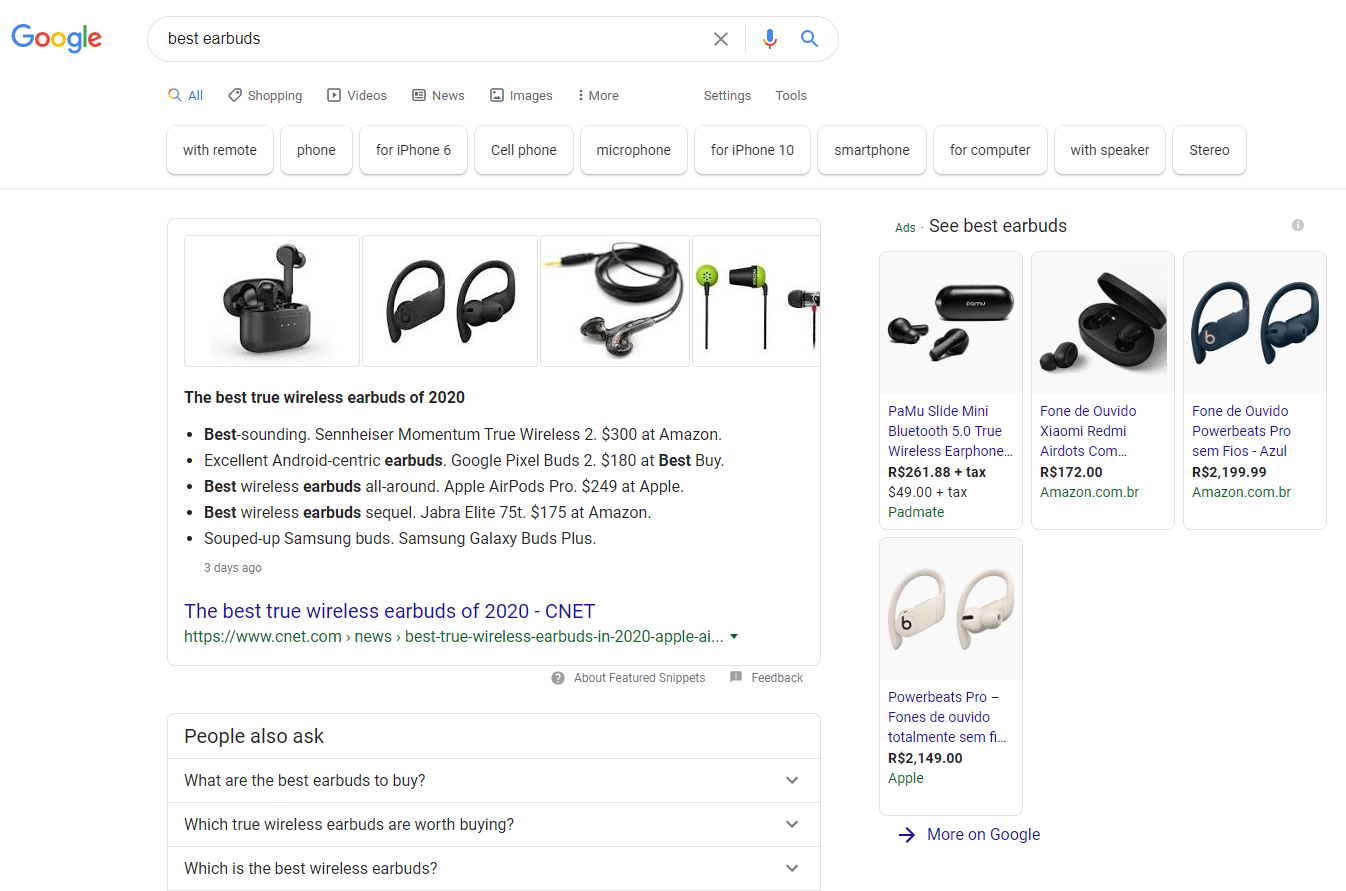 First, there are options of products from Google Shopping, with ads and prices for different earphones for various audiences, needs, and tastes.
Next, there is a list of sites and blogs with information about different types of earphones and comparisons: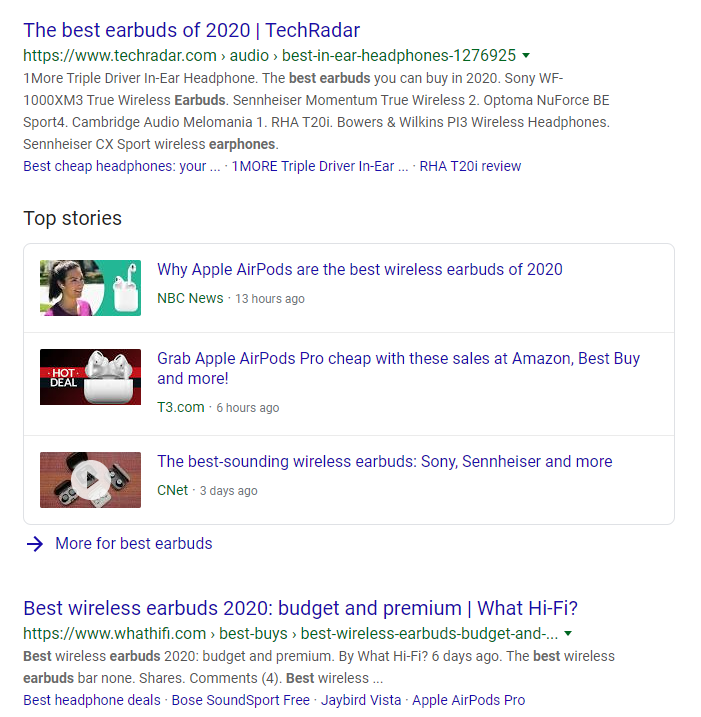 There is no shortage of content about this subject or any other that you can search for. Anyone can create and publish text with no barriers.
The question is how you can make this content more personalized and attractive for your consumer.
The secret is to create content that targets your ideal customer and no one else. Generic content may produce more traffic, but it will also produce fewer sales.
Create Content for Different Parts of the Funnel
Once you have a list of keywords you want to target, you might be confused as to what type of content you should be creating.
You'll want to create content based on your funnel. In essence, you want to cover each step of the funnel.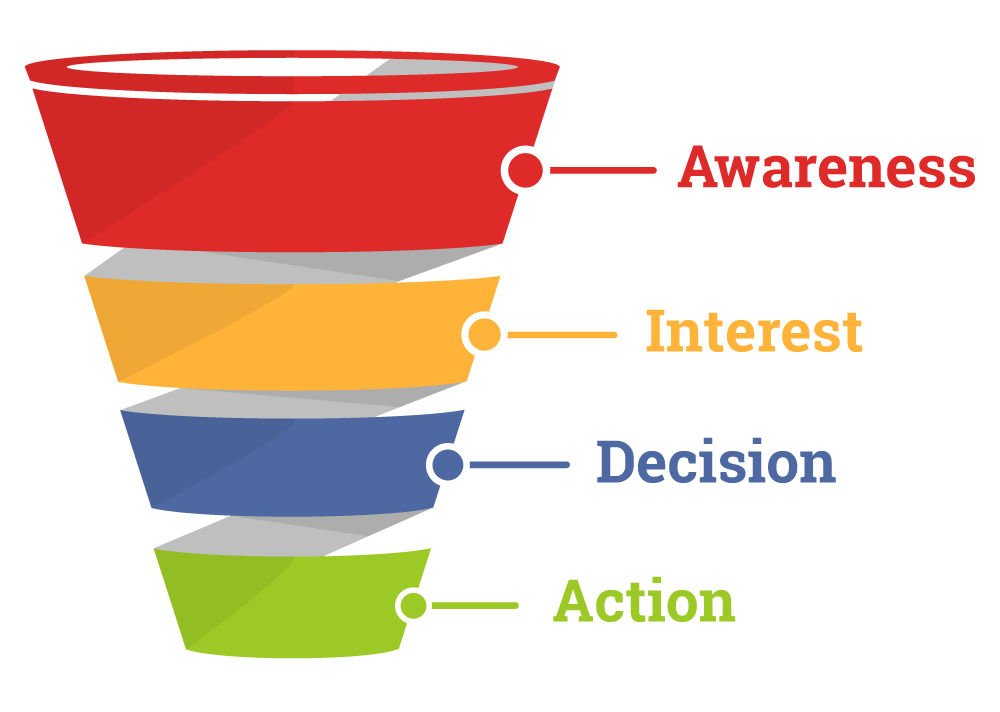 The top of the funnel involves content created for visitors and leads, that is, people that might access your site, blog, or social networks by chance.
When thinking about the top of the funnel, the idea is to create materials with more general subjects, with clear and easily accessible language.
It could be educational content, including clarifications or curiosities about your product or service or something somehow related to your industry.
The middle of the funnel is when the conversions happen. In other words, in this stage, the person who has a problem and the intention to solve it considers the purchase of your product or service.
It's the middle of the road, but it is not the sale itself, because it's still only about ideas. It's in the middle of the funnel that you get closer to your target audience and generate more identification.
Next: bottom of the funnel content. This content focuses more on your product or service.
Here you can introduce details about functions, benefits, and other direct information about your product or service.
It is far more likely to convert here as this particular audience has practically decided to buy already and you are only going to give them a final push.
Target Audience Conclusion
Knowing your audience is just the first step of a successful marketing plan — but it doesn't guarantee success.
You still need to create your content. You'll also want to create a content promotion plan to reach your audience. That's why I covered keyword research in this article as well.
Finally, make sure you have the SEO basics covered. You won't reach your audience without following search engine best practices.
So have you figured out your target audience yet?