Build Grocery Delivery App
This mobile application can do wonders and grow your Grocery delivery business. People have become so busy these days that they are adopting new ways of buying vegetables rather than traditional buying method by physically visiting the market. They have now started buying fruits and vegetables online which saves their time as well as efforts.
The 'Grocery Delivery' app is built with React native framework and works as a bridge between customers and sellers as they can buy and sell vegetables and fruits online.
Let us give you an insight of the features that this app has.
Contact us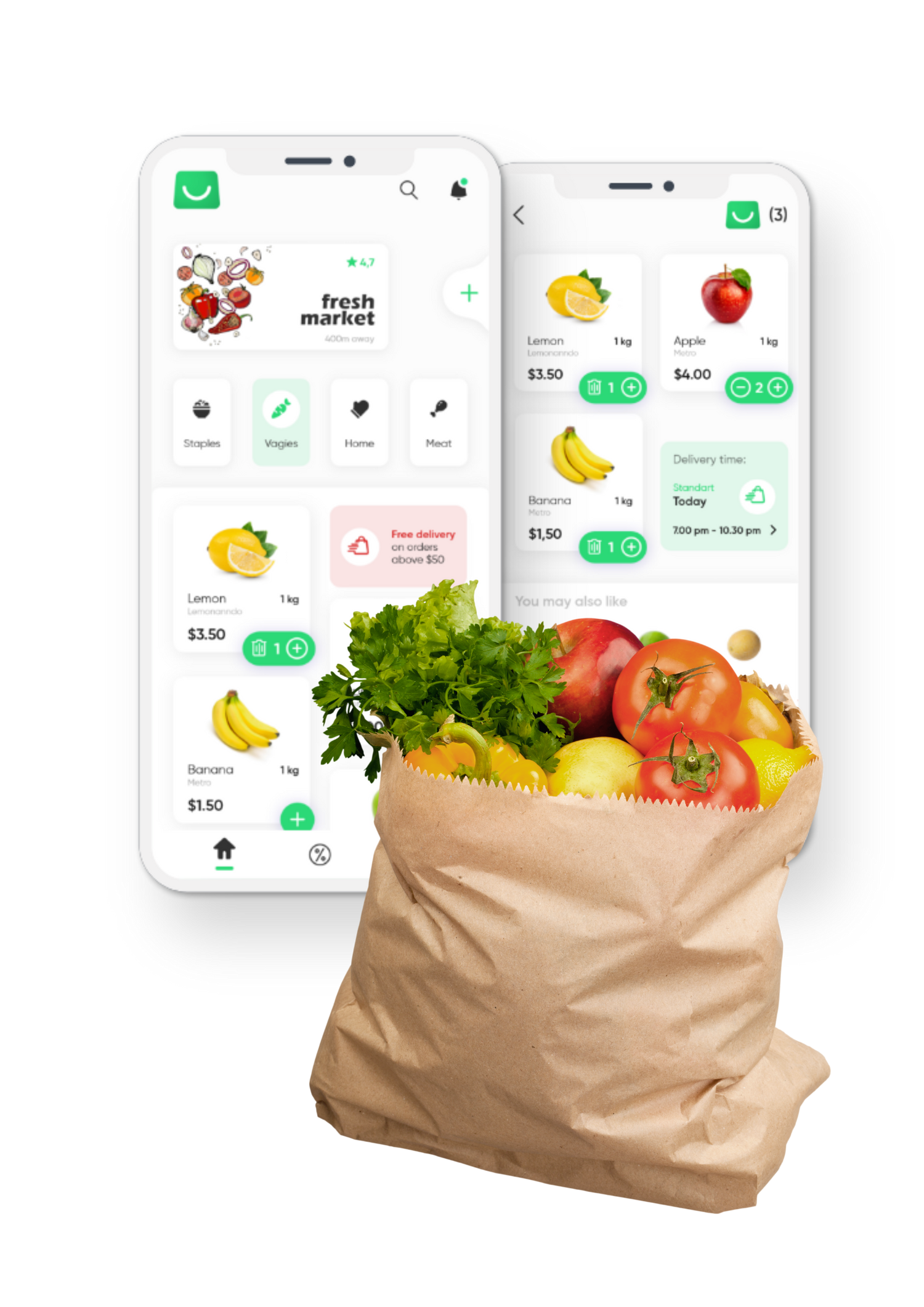 Ease Your Grocery Delivery App Management With Automation
Stay relevant to the current consumer demands with on-demand grocery delivery app solutions. Make your deliveries efficiently, fast, and safe with innovative technologies and features.
Contact us
QR Code Scanning

Users can scan the barcode of products to view the product details like ingredients, calories, price, etc.

Shopping List

Let users upload their shopping lists on the app and schedule their grocery deliveries conveniently.

Contactless Delivery

Deliver groceries fresh and safe at doorsteps with no touchpoint, maintaining safe social distance.

Stock Management

The grocery delivery app keeps track of your grocery stock with shortage and out-of-stock alerts.
Grocery App Business Models We Serve
At Stars Commerce, we serve customized grocery delivery solutions for various grocery app business models such as local grocery store apps, grocery business chains, multi-vendor grocery app stores, or aggregators models. Get an all-encompassing Grocery ordering suite for managing your online grocery store.
Contact us
Food Delivery App Services
Create a grocery delivery mobile app a simple and easy way to sell vegetables and fruits online in the digitalized world. Online grocery apps has simplified people's lives and made the whole concept of buying and selling easier with just a few clicks. Would you also like to develop a grocery delivery mobile app? if yes, then get in touch with us for the details.
Grocery Chain

Manage all your grocery stores using a single Grocery app dashboard and multiply your business.

Grocery App Startup

Take your grocery business online by building an on-demand grocery app and create a digital presence.

Grocery Delivery Marketplace

Connect with multiple grocery stores located anywhere & multiply your business.

Single Grocery Store

Enjoy greater visibility for your stand-alone grocery store with an online Uber for grocery delivery app.